Are weeds driving you nuts? You're not alone.
That was the entire reasoning of us covering all our garden beds with heavy pit-liner and planting in cut-out holes for about 6 years. We were DONE fighting them. We had a very persistent weed that had appeared through our irrigation water and took over our beds. Our soils at the time were heavy clay soils which made pulling the weeds out nearly impossible without a shovel.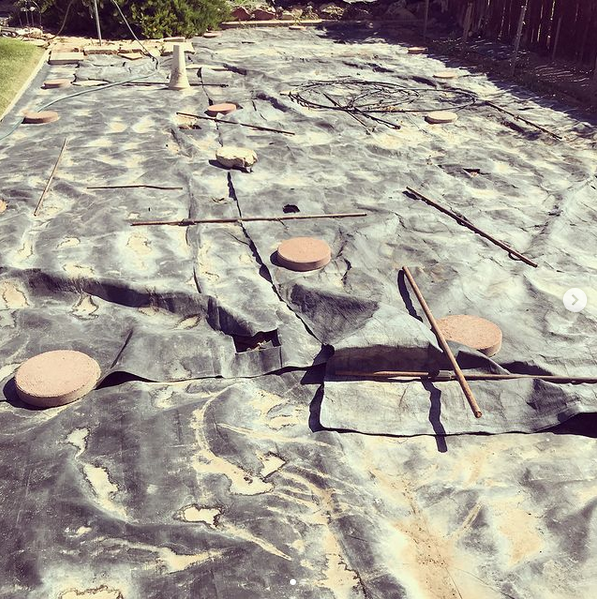 But after learning more about soil health and how detrimental that pit-liner was to the overall health of the garden, I decided to start 'flipping' each of our large garden beds toward a no-till method by sections as the years have gone by. We are now pit-liner free and constantly working on our soil health and water retention (because you know, Utah).
I learned about the no-till method from Charles Dowding on YouTube – be sure to subscribe to his channel, you won't regret it. We aren't completely no-till yet because I want to amend the clay soils a little quicker, but I hope to be in the next few years.
So, how have we become more-weedless (not weed-free) as the years have gone on? It's a combination of a few different things:
–BUILDING UP SOIL HEALTH: Now that we are concentrating on adding more organic matter into our clay soil, we are finding that any weeds that do pop up are 1,000,000,000,000,000 (what is that number even?) times easier – and more satisfying – to pull out of the soil.

–DEEP WOOD CHIP MULCH IN NON-PLANTING AREAS: If sunlight can't get to your soil, you're going to have weeds. It's as simple as that. Get on chipdrop.com and sign up for a free load of wood chips (and logs if you choose that option), and place that a good 3-5″ deep in all of your paths. Sunlight won't be able to get down to the weed seeds, which means they won't germinate.

–AMENDING THE BEDS IN THE FALL: I will preface this by saying, this is an observation I'm making this Spring as I type this post. I will be making SURE that I don't let that Fall bug of "I'll deal with it next year" bite me, and I will amend (add 2-3″ of compost to the top of the planting beds) this Fall before we tuck it away for Winter. This Spring I realized that some of those weed seeds that had blown in last year had now germinated and we had to pull them all out before getting started on planting this year. If I had taken the time to cover that soil with compost and the sun couldn't get to those seeds, our weed pressure would have been minimized even more significantly!
So, is there a "weed free" garden. I don't believe so. But you can significantly reduce your weed pressure by implementing some of these things too!
Now, get out there. Get your hands in the dirt, and get started on your less-weedy garden!
I have faith in you.
-Lacy